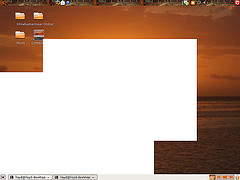 Ubuntu: Terminal Visibility Troubles
Originally uploaded by emeidi
Nach einem Upgrade meines "Media Center"-PCs (einem hundsnormalen Dell, Desktop-Modell mit Pentium III-CPU) auf Ubuntu 8.04 wurde beim Aufruf des Terminals nur eine weisse Fläche angezeigt (vgl. den Screenshot rechts, den ich einem anderen unglücklichen Ubuntu-Benutzer entliehen habe).
Das Problem konnte schlussendlich gelöst werden, in dem ich der xorg.conf folgenden Befehl beifügte:
Option "AddARGBGLXVisuals" "True"
Via: Problem: no window borders and white terminal with desktop effects.