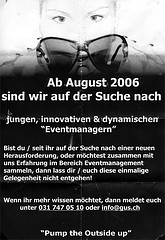 Mission: Golden Curl
Originally uploaded by emeidi.
Da fliegt unser aller Idol Patrick "Da Golden Curl" E. nach New York, um die Bestimmung seines Lebens zu finden (Berufswunsch "Eventmanager") – und nur wenige Monate nach seiner Abreise sucht man hier in der Provinz nach Personen seines Kalibers.
Eggi, we need you to …
Pump the Outside up!