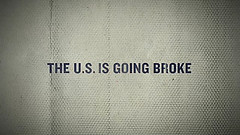 I.O.U.S.A. – The U.S. is going broke
Originally uploaded by emeidi
Untergangsphantasien über die Vereinigten Staaten haben nun auch schon das Kino erreicht. Die Tagline des Films I.O.U.S.A. lautet:
The U.S. is going broke.
Trailer unter Apple – Movie Trailers – I.O.U.S.A.
Wer von solcher Schwarzmalerei nicht genug kriegen kann, abonniert sich The Daily Reckoning, wo Leute von Agora Financial schreiben (unter anderem der von mir so geschätzte Bill Bonner).
Liked this post? Follow this blog to get more.