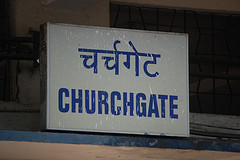 Churchgate
Originally uploaded by emeidi
Bribes, corruption and bureaucracy are part of the culture. But it's also part of what makes Mumbai work. "This is a 'make do' city," our travel compatriot Chris Mayer observed while we were driving around the city shooting video for a documentary short we hope to produce on the opportunities in the Indian market. We'd stopped in front of the state Police Headquarters for Maharashtra. It's a formidable colonial era building. But apparently they don't like you taking pictures… or stopping at all… in front of the building. An angry police officer began yelling at our driver in Hindi. Several officers carrying impressive weapons were standing behind him. […] Later we learned a quick 100-rupee note had saved us from a trip inside the police headquarters, rather than just gawking at its façade.
Quelle: Bureaucracy and Corruption Holds India Back
Als ich im Frühjahr 2009 ebenfalls in Mumbai mein photographisches Unwesen trieb, gerieten wir um ein Haar in dieselbe Situation: Als ich vis-a-vis des Bahnhofs Churchgate ein Strassenschild photographierte, sah uns ein Uniformierter böse an, rief uns zu sich, konnte sich dann aber in Englisch nicht ausdrücken. Zuerst hatten wir keine Ahnung, was er uns mitteilen wollte, bis uns langsam dämmerte, dass wir hier wohl nur heil rauskommen würden, wenn ich das soeben geschossene Foto des Strassenschildes vor seinen Augen löschte … Und tatsächlich funktionierte es. Irgendwie war er hin- und hergerissen, ob er die weissen Touristen jetzt festnehmen und einen Zusammenschiss seines Vorgesetzten riskieren sollte, oder aber ob er sich an uns sein Monatseinkommen aufbessern könnte. Da es nichts zu diskutieren gab, traten wir nach einigen Schrecksekunden den Rückzug an und wurden nicht weiter behelligt.