Diese Woche waren wir mit der Familie meiner Frau in einem Mietwagen — einem Volkswagen Sharan mit allen Schikanen — in der Schweiz unterwegs.
Am Donnerstag-Morgen kurz nach der Abfahrt dann folgendes Problem: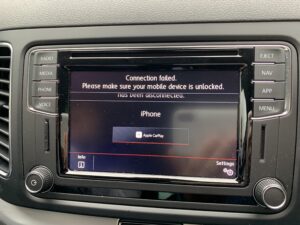 Egal mit welchem USB-zu-Lightning-Kabel und welchem iPhone (das 11 Pro meiner Frau, sowie mein XS): Wir konnten kein Apple CarPlay auf den Bildschirm zaubern.
Connection failed.

Please make sure your mobile device is unlocked.
Nach etwas Recherche im Internet dann die Lösung:
What I do is hold down the power button on the radio console for 10-15 seconds, this is comparable to a hard reset of the system.

Works every time.
Quelle: CarPlay stopped working today
Nach etwa 5 Sekunden Druck auf den Power-Knopf (⏻) erfolge der Neustart des Entertainment-Systems, und wenig später konnte Apple CarPlay wieder geladen werden.