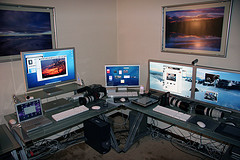 Mac Setup and more
Originally uploaded by visualseed.
… sind wohl das Äquivalent dieses Equipments, in Auto-Fetischisten-Sprache ausgedrückt.
Der einzige Haken: Der Junge scheint mit diesem Equipment auch Geld zu verdienen. Was mit hochgetunten Autos wohl nie der Fall sein wird …
Quizfrage: Geleaster M3 oder drei (!) 30″ Cinema Displays?

Liked this post? Follow this blog to get more.