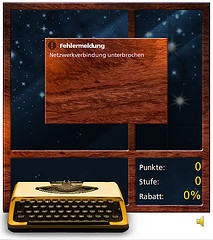 Maxomedia Speedfingerzzz:
Netzwerkverbindung unterbrochen
Originally uploaded by emeidi
Im Grunde handelt es sich beim Rabatt-Spiel des PostShops (aka "Speedfingerzzz" – der Name könnte von Mäschu erfunden worden sein) um eine der besten Spielideen der letzten Monate – wenn die Leute das Spiel denn auch spielen könnten. Seit gestern Abend erhalte ich im Flash-Game die Fehlermeldung "Fehler: Netzwerkverbindung unterbrochen" zu Gesicht und kann mich nicht einmal im ersten Level mit den anderen Spielern messen.
Dank der Aktivitäts-Anzeige von Safari wird schnell klar, wo es harzt: Gewisse URLs werden von Safari mit einer roten Fehlermeldung internal server error gekennzeichnet. Öffnet man die URL mit Doppelklick, kommt es noch besser: Microsoft wirft einem einen XML-Fehler an den Kopf:
error on line 2 at column 60: Space required after the Public Identifier
Schaut man sich den Quelltext des ausgelieferten Dokuments an, wird plötzlich alles klar: Microsoft am Werk!
ASP 500-100 Fehlermeldung auf post-speedfinger.mxm.ch

Fehlertyp:
Microsoft OLE DB Provider for SQL Server (0x80040E14)
The transaction log for database 'spi_wordmaster' is full. To find out why space in the log cannot be reused, see the log_reuse_wait_desc column in sys.databases
/_core/functions/game.asp, line 99

Querystring:
random=1229460234988&op=start

Browsertyp:
Mozilla/5.0 (Macintosh; U; PPC Mac OS X 10_4_11; en) AppleWebKit/525.26.2 (KHTML, like Gecko) Version/3.2 Safari/525.26.12

Seite:
GET /_service/level.asp

Zeit:
Dienstag, 16. Dezember 2008, 21:49:59

SessionID:
1002476129

Referer:
Quelle: post-speedfinger.mxm.ch/_service/level.asp
Haaaaaalloooooo, ist bei Maxomedia jemand zu Hause? Was lernen wir daraus: Auch Klickibunti RDBMS aus Redmond sollten mit der gehörigen Sorgfalt unterhalten werden …
Liked this post? Follow this blog to get more.