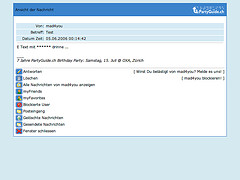 Partyguide censors eMeidi
Originally uploaded by emeidi.
Mit einem weinenden und einem lachenden Auge habe ich soeben zur Kenntnis genommen, dass der Begriff eMeidi in Nachrichten, die über Partyguide verschickt werden, zensiert wird.
Einerseits freue ich mich auf den Eingang in die Liste der "Hall of fame" der "banned words" – andereseits: He Jungs, was soll der Scheiss?
Liked this post? Follow this blog to get more.