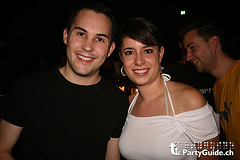 Pearls of the 80ies
Originally uploaded by emeidi
Zufälle gibt es: Just als ich gestern Abend während Pearls of the 80ies mit meiner Juristin über den bevorstehenden Gerichtstermin plauderte, wollte uns doch tatsächlich ein Handlanger Jasons auf Zelluloid bannen. Natürlich konnten wir uns das Gaudi nicht entgehen lassen.
Bis zum 15. August 2007!
Andere Schnappschüsse
Stelzbockfraktion II
Gestern versuchte unsere Crew etwas neues: Die Fraktion spaltete sich in zwei Gruppen auf. Während die eine, grössere Truppe das Bierhübeli unsicher machte, fuhr die andere im Party-Car nach Luzern. Auch deren Eskapaden sind auf Partyguide bildlich nachzuvollziehen:
Liked this post? Follow this blog to get more.