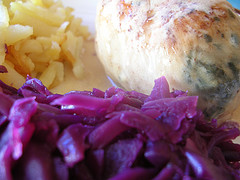 Kalbsadrio with Rösti and Rotkraut
Originally uploaded by emeidi.
Manchmal gönnt man sich etwas besonderes – so auch vor zwei Wochen, als ich wieder mal länger in der Küche stand und ein Internet-Rezept ausprobiert habe. Was dabei herausgekommen ist, sieht man auf dem beiliegenden Bild.
Sicherlich fehlt mir noch einiges um in den Koch-Olymp zu gelangen – sowohl das Rotkraut wie auch die Rösti kamen direkt aus dem Beutel. Für das Adrio aber fand ich ein nettes Rezept auf cuisine.at – "Neuenburger Art" bezieht sich wohl auf die vorzügliche Weisswein-Sosse, die ich wärmstens empfehlen kann.
Das Menu hat übrigens vorzüglich geschmeckt *mjammmi*
Liked this post? Follow this blog to get more.