Da unser Printserver auf der Arbeit in letzter Zeit oftmals einen ausgereizten Arbeitsspeicher meldet, werde ich heute ein, zwei zusätzliche Riegel RAM installieren gehen. Doch was für Module muss ich in unserem Ersatzteil-Lager suchen? Mit einem SSH-Zugang ist es absolut kein Problem, alle Fragen zu klären:
PCI-Bus auslesen
Zeigt die Chipsets und alle verbauten PCI-Karten an:
$ lspci
00:00.0 Host bridge: Intel Corporation 82815 815 Chipset Host Bridge and Memory Controller Hub (rev 04)
00:02.0 VGA compatible controller: Intel Corporation 82815 Chipset Graphics Controller (CGC) (rev 04)
00:1e.0 PCI bridge: Intel Corporation 82801 PCI Bridge (rev 02)
00:1f.0 ISA bridge: Intel Corporation 82801BA ISA Bridge (LPC) (rev 02)
00:1f.1 IDE interface: Intel Corporation 82801BA IDE U100 Controller (rev 02)
00:1f.4 USB Controller: Intel Corporation 82801BA/BAM USB Controller #1 (rev 02)
00:1f.5 Multimedia audio controller: Intel Corporation 82801BA/BAM AC'97 Audio Controller (rev 02)
02:08.0 Ethernet controller: Intel Corporation 82801BA/BAM/CA/CAM Ethernet Controller (rev 01)
CPU-Eigenschaften auslesen
Verbaut ist also ein Pentium III ("model name") mit 1 GHz ("cpu MHz"):
$ cat /proc/cpuinfo
processor       : 0
vendor_id       : GenuineIntel
cpu family      : 6
model           : 8
model name      : Pentium III (Coppermine)
stepping        : 10
cpu MHz         : 996.828
cache size      : 256 KB
fdiv_bug        : no
hlt_bug         : no
f00f_bug        : no
coma_bug        : no
fpu             : yes
fpu_exception   : yes
cpuid level     : 2
wp              : yes
flags           : fpu vme de pse tsc msr pae mce cx8 apic sep mtrr pge mca cmov pat pse36 mmx fxsr sse up
bogomips        : 1995.74
clflush size    : 32
power management:
RAM-Typ
Auf das Tool dmidecode bin ich über der Blog-Artikel Linux: Check Ram Speed and Type aufmerksam geworden. Wie die nachfolgende Ausgabe zeigt, ist momentan ein RAM-Baustein verbaut – und zwar ein Riegel SDRAM 133 MHz mit einer Kapazität von 256 MB. Weiter hat es anscheinend noch Platz für zwei weitere Module ("Size: No Module Installed"). Um was für Speicher es sich beim letzten Eintrag handelt, weiss ich hingegen nicht.
# dmidecode --type 17
# dmidecode 2.9
SMBIOS 2.3 present.

Handle 0x0023, DMI type 17, 27 bytes
Memory Device
        Array Handle: 0x0021
        Error Information Handle: Not Provided
        Total Width: 64 bits
        Data Width: 64 bits
        Size: 256 MB
        Form Factor: DIMM
        Set: None
        Locator: XMM1
        Bank Locator: Not Specified
        Type: SDRAM
        Type Detail: Synchronous
        Speed: 133 MHz (7.5 ns)
        Manufacturer: JEDEC ID:C1 49 4E 46 49 4E 45 4F
        Serial Number: EEC20808
        Asset Tag: Not Specified
        Part Number: HYS64V32300GU-7.5.

Handle 0x0024, DMI type 17, 27 bytes
Memory Device
        Array Handle: 0x0021
        Error Information Handle: Not Provided
        Total Width: Unknown
        Data Width: Unknown
        Size: No Module Installed
        Form Factor: DIMM
        Set: None
        Locator: XMM2
        Bank Locator: Not Specified
        Type: SDRAM
        Type Detail: Synchronous
        Speed: Unknown
        Manufacturer: JEDEC ID:
        Serial Number:  
        Asset Tag: Not Specified
        Part Number:  

Handle 0x0025, DMI type 17, 27 bytes
Memory Device
        Array Handle: 0x0021
        Error Information Handle: Not Provided
        Total Width: Unknown
        Data Width: Unknown
        Size: No Module Installed
        Form Factor: DIMM
        Set: None
        Locator: XMM3
        Bank Locator: Not Specified
        Type: SDRAM
        Type Detail: Synchronous
        Speed: Unknown
        Manufacturer: JEDEC ID:
        Serial Number:  
        Asset Tag: Not Specified
        Part Number:  

Handle 0x0027, DMI type 17, 27 bytes
Memory Device
        Array Handle: 0x0022
        Error Information Handle: Not Provided
        Total Width: 4 bits
        Data Width: 4 bits
        Size: 512 kB
        Form Factor: Chip
        Set: None
        Locator: XU15
        Bank Locator: Not Specified
        Type: Flash
        Type Detail: Non-Volatile
        Speed: Unknown
        Manufacturer: Not Specified
        Serial Number: Not Specified
        Asset Tag: Not Specified
        Part Number: Not Specified
Nachtrag
Wie ich vor Ort feststellen musste, unterstützt Intels 815er Chipset nur maximal 512MB RAM – egal, ob im dritten DIMM-Slot noch 256MB stecken oder nicht …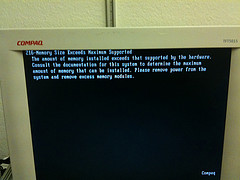 216-Memory Size Exceeds Maximum Supported
Originally uploaded by emeidi